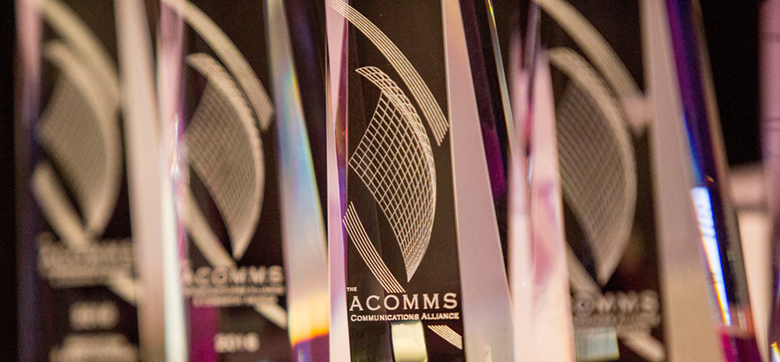 The ACOMMS 2017
Congratulations to all of the winners and shortlisted finalists of the 2017 ACOMM Awards, who were unveiled and celebrated during the 11th annual ACOMM Awards Dinner on Wednesday 19 July 2017 at the stunning Hyatt Regency Sydney.

A glittering showcase of telco industry achievement - the ACOMMS are proudly presented by Communications Alliance.

Visit the 2017 ACOMM Awards Dinner photo gallery here and highlights video here.


ACOMMS 2018 - Sponsorship Opportunities
Sponsoring the ACOMMS provides a unique opportunity for brand positioning. As a sponsor, you will have your organisation highlighted in front of engaged audience of more than 450 - including some of the most influential professionals and decision-makers in the Telco industry. Please contact Carolyn Todd on +61 3 9663 3093 or email info@acomms.com.au to discuss sponsorship opportunities at the 2017 ACOMM Awards.