Sponsors
TITLE SPONSOR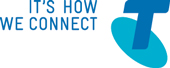 Telstra is a company of connection.

Every day we help millions of Australians connect to the people and things that matter most to them, because we believe the more connected people are the more opportunities they have.

That's why we build technology and content solutions that are simple and easy to use – including Australia's largest fully integrated IP network and Australia's largest and fastest national mobile network.

That's why we strive to serve and know our customers better than anyone else – offering a choice of not just digital connection, but digital content as well.

And that's why we have an international presence spanning 15 countries, including China.

In the 21st century, opportunity belongs to connected governments, connected businesses, connected communities and connected individuals.

As Australia's leading telecommunications and information services company, Telstra is proud to be helping our customers improve the ways in which they live and work through connection.

SILVER SPONSORS




VASP Group Pty Ltd are specialists in the field of design, deployment and integration services for high performance telecommunications networks, providing an end to end capability, commencing with Engineering and Planning Services, through to Equipment supply, Installation, Commissioning / Integration and Managed Services.

Our customer base covers all major industry sectors including telecommunications, utilities, government, transport and enterprise with a focus on Australasia. PNG and the South Pacific.

VASP Group has rolled out communications networks across some of the harshest terrains in the world, partnering with carriers, service providers and equipment manufacturers to fulfil each client's specific project requirements.





Optus is leading Australian telecommunications provider, servicing more than 10 million customers every day, employing more than 8500 staff and operating around 290 retail stores under the Optus 'yes' brand.

As Australia's second largest telecommunications group, Optus provides a broad range of services including mobile, fixed and IP telephony, business network services, fixed and wireless broadband, satellite services, entertainment and subscription TV and digital services. Optus also delivers wholesale services to third-party providers for on-sale under their own brand.




iiNet is Australia's second largest DSL Internet Service Provider (ISP) and the leading challenger in the telecommunications market. We're a publicly listed, ASX 200 company and employ more than 2,000 inquisitive staff across three countries. We maintain our own super-fast broadband network and support over 1.7 million broadband, telephony and Internet Protocol TV (IPTV) services nationwide.

We're committed to making it simple for all Australians to connect across both our own network and on the NBN. Our vision is to lead the market with products that harness the potential of the Internet and then differentiate with award-winning customer service.

BRONZE SPONSORS




Sponsorship Enquiries
For sponsorship enquiries, please contact Carolyn Todd on 1300 651 485 or email commsalliance@slatteryit.com.au.